Latest News
Our Walk to school scheme
This week has seen our walk to school programme extended to being available every day. As the week has progressed, we have seen an increase in numbers taking up this service. We hope that walking to school will help in lots of ways - encouraging our children to be active, helping parents to gain extra minutes in getting to work and also to reduce the car traffic around school. Please feel free to join Mr Morley and Mrs Danvers at the chip shop car park from 8.30am ready to leave at 8.40am. Nursery and reception parents if you want to join the walk with your child, then that is ok too.
And at the end of the week numbers increased to 33 even in the rain! Well done to all of our walkers, especially those who walked each day!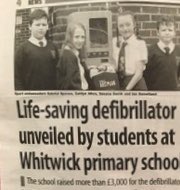 The result of our pupils completing their marathon and receiving sponsorship. Well done to our pupils and a big thank you to everyone who sponsored them. Spread the word that the village has a defibrillator located at school. Look out for information about a time to show the community how to use it.
Cross Country
The end of the Cross Country Season of competitions has now come to an end! Our children have turned out in all weathers on Saturday mornings to compete with hundreds of children from across the county as well our North West Leicestershire schools. Thank you to parents and grandparents who have made sure our school has had a good turn out at each event.
Well done to all of you!
Results for Top three of North West Leicestershire Competition
Year 4 Marcus Godfrey 2nd Place
Year 6 Jack McGuire 2nd Place
Selected to represent the county on the Saturday 24th March at Prestwold Hall
Year 4 Molly McGuire
Marcus Godfrey
Year 6 Savana Smith
Jack McGuire
As well as representing school, Savana has also been busy racing in National competitions. Well done to her and all of her achievements.
Thank you to the volunteer parents and teaching assistants who give up their time to help at Running Club each week. It is greatly appreciated.
Lenten Activities
Year 6 kicked off our CAFOD fundraising with play time games. Approximately £130 has been raised. Well done Year 6 - what a fantastic start!
Week beginning 5th March - Nursery and Reception have been busy selling cakes and Year 1 have had a toy and book sale. An update on monies raised will follow.
After all the fun and games, we were able to send a cheque to CAFOD for £492.00. Well done and a big thank you to everyone who contributed in some way to this grand total.
Week beginning 12th March - Year 5 are also being creative with their playtime activities. More to follow.
---